Major exhibition explores W.B. Yeats' connections with the West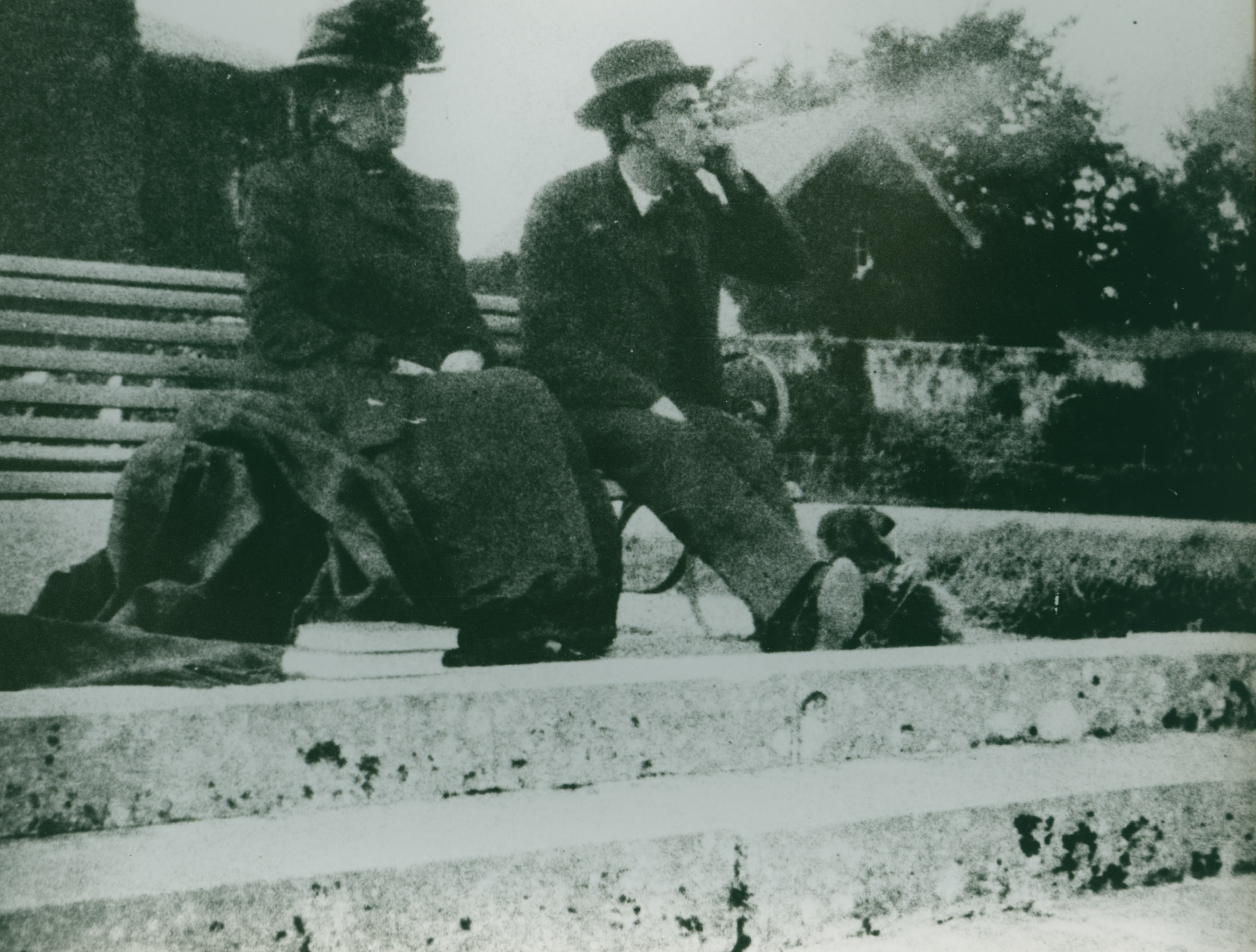 Wednesday, 24 June, 2015: A major exhibition celebrating the many connections W.B. Yeats had with the west of Ireland opens at NUI Galway tomorrow (25 June). NUI Galway's Moore Institute and Hardiman Library will present 'Yeats & the West', an exhibition exploring Yeats's life, work, legacy and deep connections to the west of Ireland.
Rare artworks, books, original documents and exclusive film clips will feature in the interactive exhibition. Original watercolour sketches and oils by W.B. Yeats's brother, the celebrated artist Jack B. Yeats, will also feature. The exhibition is part of Ireland's decade of commemorations and the worldwide Yeats2015 series of cultural events marking his 150th birthday. The exhibition will run from 25 June – December 2015.
Items on display will reflect W.B. Yeats's attention to life, love, and landscape in Galway, Sligo, and beyond. 'Yeats & the West' details the many artistic collaborations that centred on Coole Park in Co. Galway between artists inspired by the western world. It follows the foundation of the Abbey Theatre in Galway, and Yeats's work with J.M. Synge, George Moore and Edward Martyn, using exclusive materials from NUI Galway's Lady Gregory Collection, the Abbey Digital Archive, and the Lyric Theatre Belfast. It explores his obsession with local poet Antoine Ó Raifteirí, and highlights the gifted artists of Yeats's own family, whose pioneering work is showcased in exquisite handprinted books and in embroidery from Loughrea's St. Brendan's Cathedral.
"William Butler Yeats, poet, playwright, politician, and Nobel prize-winner for literature always looked west. For Yeats the west was the wellspring of songs, stories, folklore, artwork, drama, crafts; the foundation of the Irish imagination. It was also the landscape of his poetry and plays. Significant events of his life took place here; collaborations that formed his work were forged here. 'Yeats & the West' tells this remarkable story and considers what the west meant to him, and what that means for us", explains Dr Adrian Paterson, a Lecturer in English at NUI Galway and expert on W.B. Yeats, who led the curation of the exhibition.
The interactive exhibition features original watercolour sketches and oils by W.B. Yeats's brother, the celebrated artist Jack B. Yeats, priceless Cuala Press volumes and broadsides, a wealth of visual material from artists and photographers from Fergus Bourke to Nicolas Fève, and rarely seen images and manuscripts from archive collections in NUI Galway and around the world. Through rare books, original documents, and artworks, and using modern touchscreens, recorded sound, and exclusive film, visitors will be able to take a tour of Yeats's commitment to history, tradition, and new art, all under western eyes. Talks and special events feature throughout the exhibition's spectacular run from June to December 2015.
Yeats's restoration of Thoor Ballylee, Galway, is seen alongside the construction of his own poetry, and the effects of revolution and civil war on his work and the west is put starkly on view with manuscripts from the National Library of Ireland, and rare books and photographs. Collaborations with his artist brother Jack B. Yeats are illustrated with newly exhibited sketches and exquisite colour prints. 'Yeats & the West' even tracks his furthest forays west, following him and the Abbey players as they cross the Atlantic and bring back with them a renewed idea of the breadth of the western world.
"Through images, words, film, and sound, with interactive touchscreens, panels, and rich display cases, using valuable material from the University's collections and from around the world, 'Yeats & the West' tells anew an old story: a story of going west to find those places, real and imaginative, that change our sense of where and who we are", added Dr Paterson, who serves on the Yeats2015 Steering Committee and Yeats Thoor Ballylee Society.
The exhibition runs from June to December 2015 in the Hardiman Building, NUI Galway with special events throughout. 'Yeats & the West' is supported by the Moore Institute, Hardiman Library, Galway City Museum, the National Library of Ireland, Loughrea Cathedral, the Yeats Thoor Ballylee Society, and Yeats2015.
For further information contact adrian.paterson@nuigalway.ie
Or Ruth Hynes, Press & Information Executive, NUI Galway on 091 495695 or ruth.hynes@nuigalway.ie
Images from NUI Galway's Lady Gregory Collection:
1. A broadside image with a poem by Yeats (Feb 1935)
2. A black and white photograph from Coole Park of Yeats and Lady Gregory
About NUI Galway
NUI Galway* is one of Ireland's foremost centres of academic excellence. Over 17,000 students undertake an extensive range of studies at the University, which is renowned for the quality of its graduates. 
NUI Galway is a research-led University with internationally recognised expertise in areas including Biomedical Science and Engineering, Web Science, Human Rights, Marine Science, Energy and Environmental Science, Applied Social Sciences and Public Policy, and Humanities, in particular literature, theatre and Irish Studies.
For more information visit www.nuigalway.ie or view all NUI Galway news here.
Attachments:
https://app.mediahq.com/app/release-file/2063