'Age is just a number' as thousands flocked to the dlr Age Well Expo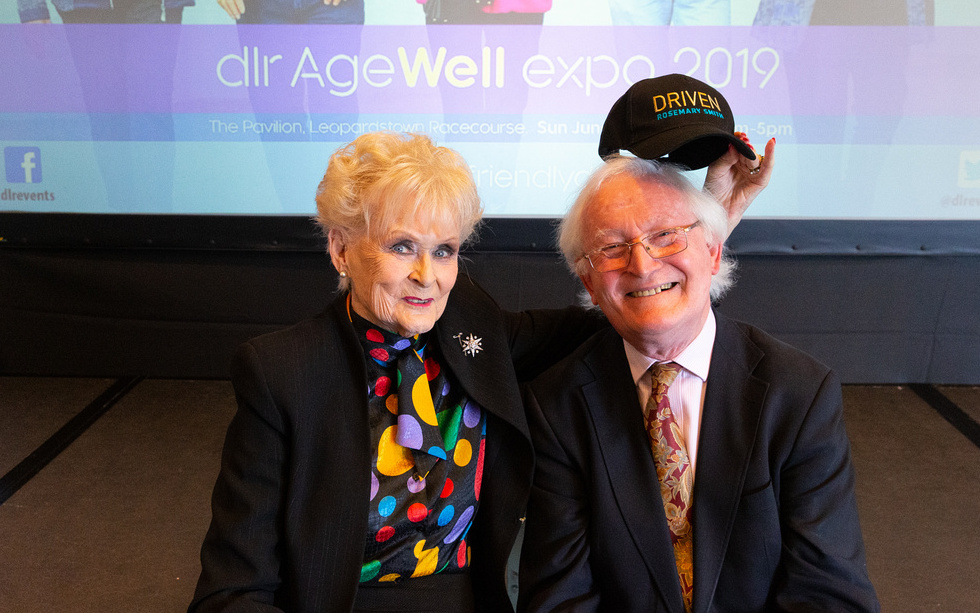 Press Release



'Age is just a number' as thousands flocked to the dlr Age Well Expo
Thousands flocked to the Pavilion at Leopardstown Racecourse, Dublin last Sunday (June 9th) for the dlr Age Well Expo presented by Dún Laoghaire-Rathdown County Council in association with dlr Age Friendly Alliance. The event showcased services and supports available to older people in Dún Laoghaire-Rathdown and featured two stages with a variety of entertainment, dance workshops from the Dance Theatre of Ireland and cookery demonstrations by TV Chef Adrian Martin complimented by presentations on topics such as Safety and Security and the benefits of becoming a Volunteer. The Chat Café stage hosted appearances from legendary rally driver Rosemary Smith and author, poet, and TV presenter Christy Kenneally.
The event was free of charge to attend and was presented in two sessions, morning and afternoon. There was a wide range of exhibitors showcasing a whole host of services, supports and groups for older people as well as free Blood Pressure checks, crafts, books and lots of activities that older people can engage in.
The extensive exhibition took over two whole floors of the Pavillion at Leopardstown Racecourse and was a resounding success. There were opportunities to join groups such as Active Retirement Ireland and find out about the services of Age & Opportunity, Age Action Ireland, Age Friendly Ireland, the dlr Network for Older People, dlr Volunteer Centre, Irish Men's Sheds, Living Well with Dementia, Making Connections, Purple House (Cancer Support), Southside Partnership, The Seniors Alert Scheme (SAS), UCD Access & Lifelong Learning Centre, University of the Third Age (U3A) and many more.
An Cathaoirleach Councillor Shay Brennan said "We were very proud to present this event and showcase the services and supports available for older people in Dún Laoghaire-Rathdown. We value our older citizens and yesterday the energy and positivity in the venue was palpable. The dlr Age Well expo was proof that 'age is just a number".
Eugene Magee Chairman of the dlr Age Friendly Alliance said 'We are fortunate to live at a time where more people can expect to live longer, healthier lives, and the Expo aimed to help people to find out about what is available to help them in staying active and enjoying a full life.
Dearbhla Lawson Director at Dun Laoghaire Rathdown County Council said "It was wonderful to see so many people enjoying chats, moving to the Well Dance rhythms and signing up for groups and activities locally. Our aim is to enhance the quality of life of our older people in dlr, and the Expo reminded us all that it's all about the life in your years, not the years in your life!"
The dlr Age Well Expo provided an opportunity to connect, engage and hear about topics of interest, particularly around the subjects of health, security and social participation. These are priorities in the comprehensive Dún Laoghaire-Rathdown Age Friendly Strategy 2016-2020

ENDS
Attachments:
https://app.mediahq.com/app/release-file/40130
https://app.mediahq.com/app/release-file/40131
https://app.mediahq.com/app/release-file/40132
https://app.mediahq.com/app/release-file/40133